Take your career in I.T to the next level – enrol now for Feb 2020. Study a Diploma in Information Technology L5 or Systems Administration L6.
EmployNZ Tertiary Institute is a NZQA approved Category 1 Private Training Institute.
We offer custom built I.T training facilities, a smaller class size, and hands-on practical I.T training!
We provide an individualised approach so when you study with us you will not be hampered by thousands of other students, over-crowded lecture theaters or little support from your tutors.
Contact us today to receive an information pack or to book an appointment to meet with our team and view our facilities. You will be greeted with exceptional customer service and super friendly approach.
Download our I.T brochure
Download it yourself using the link below, or we can email it to you using the form provided.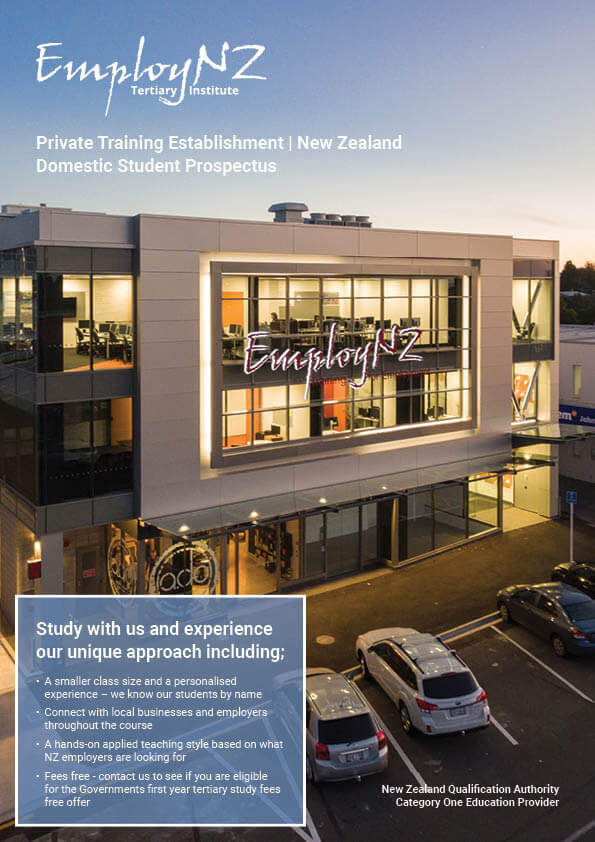 New Zealand Diploma in Information Technology (Level 5) (120 Credits)
Start
2020 - Feb 3, April 27, July 20, Oct 12
Find out more
New Zealand Diploma in Systems Administration (Level 6) (120 Credits)
Start
2020 - Feb 3, April 27, July 20, Oct 12
Find out more
What our students are saying…
"I have gained a passion for IT I did'nt even know I had. I have learned so much and I love how practical it is"
Jonathan Coleman – IT L5
"The course comes with all the equipment required for IT, and EmployNZ is located close to a bakery for when you need a snack!"
Madison Simmons – IT L5
"The course is fun and I have learnt alot, the classrooms are comfortable and the tutor is happy to explain things I dont understand"
Edni Espina – IT L5
"My experience with this programme is that it is tough, but also fun because I have gone through it with a great class and tutor, and have had alot of fun"
Luke Thompson – Systems Admin L6
"My experience at EmployNZ has been excellent, I don't want the course to finish. Nicely paced learning with fantastic tutors."
Cindy Ward – Diploma L5
"What I have enjoyed most is the small class size, meaning more time with the tutor. The class schedule also fits in well with life and kids!"
Nakita TeHuia – Diploma L5
"An insightful learning experience in a broad range of IT technologies in supportive environment"
Kirwan Smith – Systems Admin L6
"The programme is really good, Im learning heaps everyday. I enjoy the content as its relevant for when I get into the employment market"
Kern Singh – Systems Admin L6
"The programme has opened my mind to a new way of learning. EmployNZ is warm and inviting."
Roxanne Rattley – Diploma L5
"The course has been great, the tutors I have are down to earth and know their stuff. My overall experience has been positive, I have learned tons of useful IT skills"
Jamie Kelly – IT L5
"I enjoy the comradery with other people in my particular field as it gives the ability to share and learn of each other. It is a great environment with friendly tutors & students"
Brett Maxwell – Systems Admin L6
"I highly recommend EmployNZ to prospective students. I have progressed from Level 2 & 3 Computing and am now doing a Diploma!"
Erin Pickett – Diploma L5
High Quality
We have always been a NZQA accredited Category 1 Education Provider
We offer a modern boutique learning environment with classes that are climate controlled and noise proof.
Small Class Size
Class sizes are capped to maximise your learning
We use conversational learning, meaning It is easier for you to ask questions and get answers
Employment Focussed
Our courses are based on the real world requirements of I.T employers
We help our graduates prepare for and find work
We help our international students find part-time work while they study
Maximum Support
Our tutors are always available to meet with you personally
We help you enrol easily with Studylink advice and support
We offer a personalised experience and know our students by name
EmployNZ is a Category One NZQA accredited Education Provider