Early Childhood Education [NZ Cert Level 3]
Introduction
This program is intended for people who want to participate in the education and care of infants, toddlers, and young children in an entry level career role.
The program is aimed at people who want to progress into a career or further study in Early Childhood Education and gain the New Zealand Certificate in Early Childhood Education L3.
Here students will continue learning to nurture the development and learning of young children.
This is a great way to learn practical hands-on skills as some of the assessments are carried out in work placements.
ECE is an in-demand qualification and a highly rewarding career.
Frequently Asked Questions
Q: "What will I learn?"
This Early Childhood Education course covers:
Child development
Care for infants and young children
Health, safety, and well-being
Positive relationships with children
Real-world skills
NZ Certificate in Early Childhood Education – Level 3
Q: "What qualification will I get?"
Graduates will receive the "NZ Certificate in Early Childhood Education – Level 3"
Q: "What is the

start date, timetable and course duration?

"
Start dates:
Timetable:

8:30am – 3:00pm Monday to Friday

Course duration:
Q: "What are the costs?"
This course is free, yay!
Q: "What is the location for this course?"
Q: "Is this course available to international students?"
No, this course is offered only to NZ citizens or permanent residents
Q: "Is this course best suited to students of a certain age?"
Anyone aged 16 years and older is welcome
Q: "Are there any prerequisites?"
You must have achieved the Early Childhood Education NCEA Level 2 qualification and accumulated sufficient work experience in the sector
Applicants must be capable of passing a police vetting check
Q: "What do students who have done this course say about it?"
Download our Early Childhood Flyer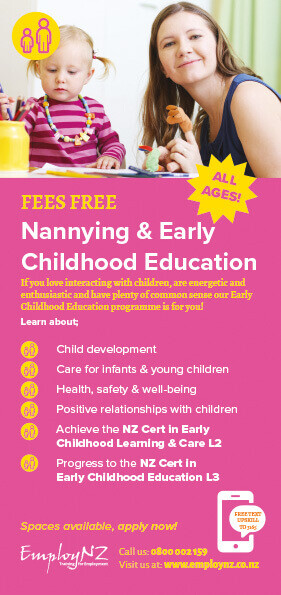 Enquire about this course